MICRON RX DIGITAL BLUE SET
3 RX Alarms and Receiver in Own Case.
RRP (£599.99) SAVE £100 OUR PRICE £499.99

FOX Micron SX RRP(£89.99) OUR PRICE £69.99

Wave Carp Bite Alarm & Bag
On/off ,volume control knob
Jackplug socket for sounder box
brass screwfitting
protective bag with zip and belt-loop.
RRP £21.99 OUR PRICE £19.99
Sundridge optonic digital alarm set.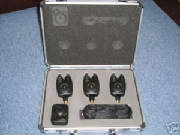 Push button on/off
Push button volume
Push button tone
15 second latching LED
2.5mm extension socket
Rigid buzz bar bolt with locking washer
Weatherproof electronics
Low battery drain
Digital sounder box
All leads supplied
Aluminium carry case
RRP £79.99 OUR PRICE £49.99