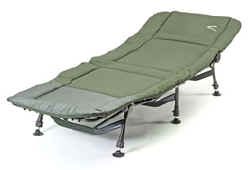 JRC Terry Hearn 3 leg super cocoon bed chair.
Conventional bedchairs are great but for long sessions you can't beat the strength and comfort of our new design. By placing the three legs equally apart and reducing the end overhangs we've increased the frame strength considerably. The shorter sidebars are inherently stronger and have made it possible to spring the mattress on the underside this gives firmer support. Amazingly this full size bed folds down to the dimensions of a large suitcase.
RRP £199.99 OUR PRICE £149.99 SAVE £50 !!! + FREE CARRY BAG
Top quality Tackle At rock Bottom Prices !
All parts and content of this website are, and remain, ©2004 Premiere Tackle Supplies
and any featured companies or trademark owners. No part of this website may be reproduced
in any way, either mechanical or electronic , without the express permission of the author or site owner.