TRAKKER BIG Z PEACHSKIN SLEEPING BAG
SAVE £40.00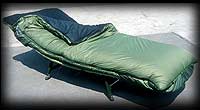 Huge size 86" long x 36" wide
Quick release zips both sides of the bag
Secures top and bottom of bedchair by generous sleeves and also secures underneath bedchair via large strap with quick release buckles

now featuring a heavy duty "Peach skin" breathable outer fabric.
RRP £159.99 OUR PRICE £119.99

New Chub 5 season expedition sleeping bag.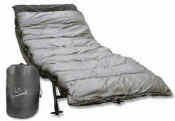 Superb, quilted and fleece lined sleeping bag offering year round comfort and warmth at a VERY economical price.
RRP £84.99 OUR PRICE £79.99
JRC cocoon 4 season sleeping bag.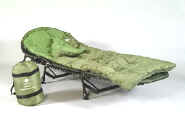 Value 4 season sleeping bag.
Dont be put off by the price of this bag,its both very roomy and VERY warm.
RRP £59.99 OUR PRICE £49.50