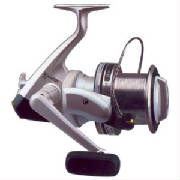 SHIMANO BIOMASTER 10000XT
Ultra smooth clutches and Baitrunner Mechanism.
Enhanced gearing.
Hybrid aluminium body and reel stem for minimal flex when under pressure.
30% increased spool capacity.
Aluminium spool.
Dyna-balance system.
Seven Stainless Steel ball bearings + one roller bearing.
Titanium power line roller.
Aero wrap line lay.
4.5:1 gear ratio.
Free spool tension adjuster.
Internal bail trip.
Spare spool (aluminium)
Left or right hand operation
RRP £214.99 OURS £199.99
Introducing the new Baitrunner GTE-B Reels where the intrinsic value has been significantly boosted with A-RB bearings, gold forged aluminium spools (1 on the reel, 1 spare) and raw platinum-look body shell
8 ball bearing equivalent - anti-rust bearings.
Dyna balance.
Oversized power roller.
Aero wrap.
Long life bale spring.
High efficiency gear.
Ambidextrous double handle.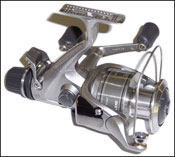 FEATURES :
8 BALL BEARING EQUIVALENT
(4 A-RB + 1 ROLLER BEARING)
COLD FORGED (CF) ALUMINIUM SPOOL
DYNA-BALANCE
OVERSIZED POWER ROLLER
AERO WRAP
LONG LIFE BAIL SPRING
HIGH EFFICIENCY GEAR
SPARE CF ALUMINIUM SPOOL
5000 GTE B RRP£119.99 OUR PRICE £109.99
6000 GTE B RRP £124.99 OUR PRICE £109.99
8000 GTE B RRP £124.99 OUR PRICE £109.99
Buy Any 3 GTE-B Reels For £299.99 And Save Over £70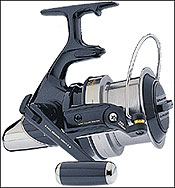 DAIWA EMBLEM Z
The Emblem Z reels feature the unique ABS (Anti Backlash System) and have quite simply taken the casting performance of the fixed spool reel further than it has ever gone before. The reversed taper and increased diameter of the spool is highly innovative, reducing line friction on the cast by a massive 50%. Such a leap in performance extends the energy of each cast resulting in a significant increase in distance. The Emblem Z models come supplied with a free spare spool.
Specifications
Line Capacity: EMZ5000A 280m-18lb, EMZ5500A 270m-20lb
Gear Ratio: 4.2 to 1
Weight: EMZ5000A 22.6oz, EMZ5500A 22.6oz
Bearings: 5
EMZ5000A (RRP)£240.00 OUR PRICE £199.99
EMZ5500A (RRP )£240.00 OUR PRICE £199.99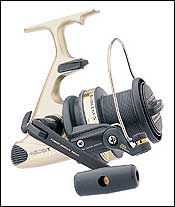 DAIWA EMBLEM-S 5000T REEL £94.99 now £49.99